In recent years, smart safety equipment has witnessed great currency in our daily life under the development and upgrading of technology. And the smart door lock, as a home guard, attracts more customers on protecting family safety.
However, can a smart lock only be bound to one mobile phone account? If our family member isn't bound to the smart door lock, does it mean they can't check the door lock records on APP? Can the master share the outside door situation with family members in real-time?
For these above doubts about the door lock function sharing on EasyKey APP, the Philips DDL702-1HW visual smart door lock could give you the answer.
Smart door lock plays an entry-level role among security devices. For safety reasons, one smart door lock could only be bound to a mobile phone account. However, it's worth mentioning that the Philips DDL702-1HW visual smart door lock supports door lock function sharing. That is, authorized users can view the outside door situation and door lock information anytime and anywhere. It eliminates the inconvenience that a smart lock can't simultaneously check the door lock status online by authorized users. The specific steps are as follows.
After your mobile phone has been bound to Philips EasyKey, click the Philips EasyKey APP -- [Share device]-- [Invite a new account] -- [Phone account] -- Enter the phone number(The account should have been registered with Philips EasyKey APP.) -- [Next] -- [Succeeded]
After a successful invitation, what functions can the authorized user enjoy?
Remote online, real-time monitoring
Philips DDL702-1HW visual smart door lock is combined with smart door viewer, doorbell and door lock functions. Not only is it equipped with a 120°wide-angle lens with more than 2 million pixels resolution, but also it supports Wi-Fi connection. After successfully authorized, our authorized family members can check the door lock information and alert records on APP. Moreover, even though our family members are not the only bonded user, they can also get to know the real-time outside door situation through video function.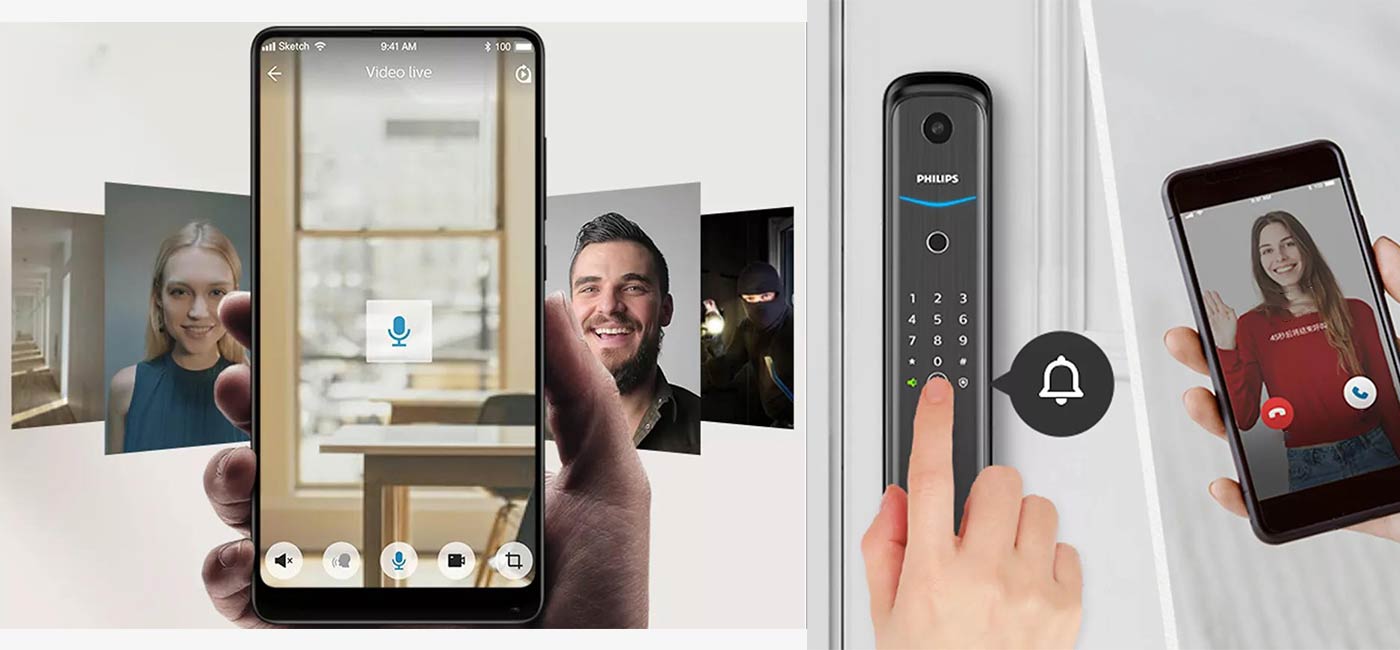 Remote visual intercom, real-time video
When someone rings the doorbell, our authorized family members would also receive the doorbell message and could answer as well. It supports intercom with visitors, which enhances our front door safety.
Warm tips:
①The user who has been authorized should download the "Philips EasyKey" APP in advance and then registers and logins in.
②Once the master authorizes other users, the authorizations are permanent and can also be canceled on APP anytime.
③Philips EasyKey APP doesn't limit the number of authorized users, which can satisfy the demand of whole family members.
④Currently, the sharing door lock function can only be founded on Philips video smart door lock and Bluetooth smart door lock like Philips DDL702-1HW video smart door lock and Alpha smart door lock. While Philips facial recognition smart door lock and Wi-Fi smart door lock are excluded like Philips DDL702-8HW facial recognition smart door lock.
Sharing door lock function on APP, which allows simultaneously using by many authorized users. Philips EasyKey DDL702-1HW visual smart door lock supports sharing door lock function, which can allow our family members to check door lock status. It makes our front door situation safety"visible" and brings more convenience.