Welcome home, Philips door viewer
Are you ready to make your front door smarter? Meet Philips door viewer, it is a thing of beauty, minimal design and compact features. It is easy to install and powered by Lithium battery. No need for Wi-Fi connection, some renters may like it. The app is Philips EasyKey, even the app is simple, you can set up your door viewer step by step.
Four built-in magnets of Philips door viewer makes install and disassemble easier. With the reinforced cable, the product could be much durable. The biggest difference between Philips door viewer and other products is high quality audio and video experience. It features with a monitoring lever 170 degree lens, the door viewer can absorb a high volume of light, together with 4 bright infrared supplement lights and a professional infrared lampshade, offering you with the big wide angle HD night vision, HD sensor plus IR-CUT filter enables better experience. The 2MP(1080P) video resolution is enough for daily use. The 5 inch IPS multi-touch screen makes everything look terrific. The interactive design is easy for children and elderly to operate.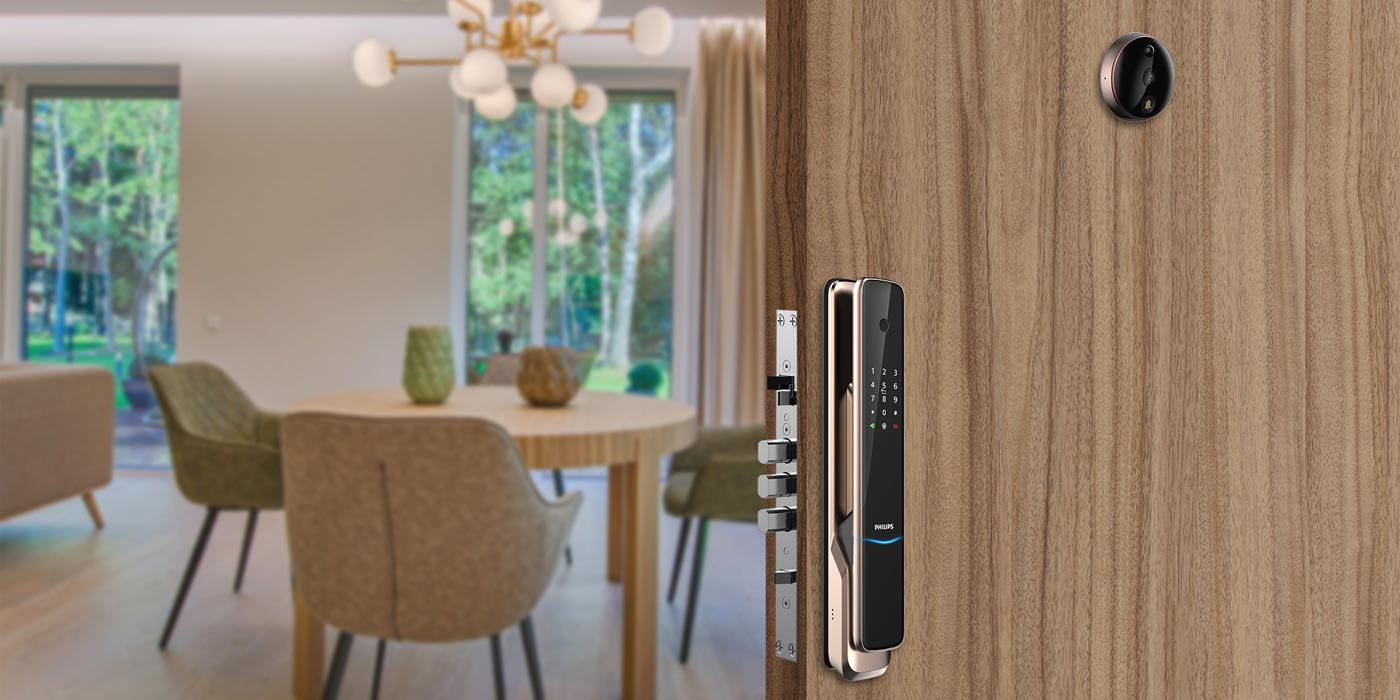 In the app's settings, you can pair Philips door viewer with Philips EasyKey 9300. When someone rings your door bell, you can start the real-time video chat on App anytime and anywhere. Philips door viewer is adopted with a PIR infrared sensor and AI human body detection algorithm. Not only you can monitor who may be at your front door right now, but also you can browse historical alerts and recording on the app or door viewer itself. 15 days encrypted cloud storage for checking. Safety is assured with the encrypted customized system.
When an abnormal alarm occurs on Philips EasyKey 9300, the door viewer will upload photos and videos to cloud server and push notification to APP in real time. Which is incredible handy for some situation. On the top of that, the intensive body design and built-in anti-prying sensor of it, when it detects abnormal disconnect with internet, it will trigger a signal to warn the stranger and remind of your family, and push real-time notification to app.
New horizon, new experience, and start a new life!