Free our hands from getting rid of key
Use A: As a night jogging lover, I used to worry about how to go out with a key. For example, putting it in my pocket is troublesome. Hiding it in some place near the door will disquiet me. One time, I bought a Philips EasyKey, which can unlock the door with one touch. From then on, I can enjoy the night jogging without worrying about key-related trouble.
User B: Philips EasyKey is an exact cure for the shopaholic. Let's imagine: when we are off work, we take out one parcel after another from the delivery cabinet. A sense of satisfaction arises from that moment. Thus, for convenience, I bought a Philips smart door lock. Its push-pull handle design that you can easily push the door to unlock after successful verification even you are holding a lot of stuff in your hands.
User C: My BFF's house is totally different from mine. When I came in through fingerprint unlock while she is still rummaging in her bags for the key. Especially, when you are experiencing a scorching summer, you are continuously sweating but actually you just only went out for a few minutes. Then, nobody can refuse a place with an air-conditioner. Those quickly unlock functions on Philips EasyKey can greatly shorten the time you spend unlocking the door and make you enjoy the air-conditioner quickly.
Get rid of key-related trouble, Philips EasyKey makes our life full of happiness from unimpressive details.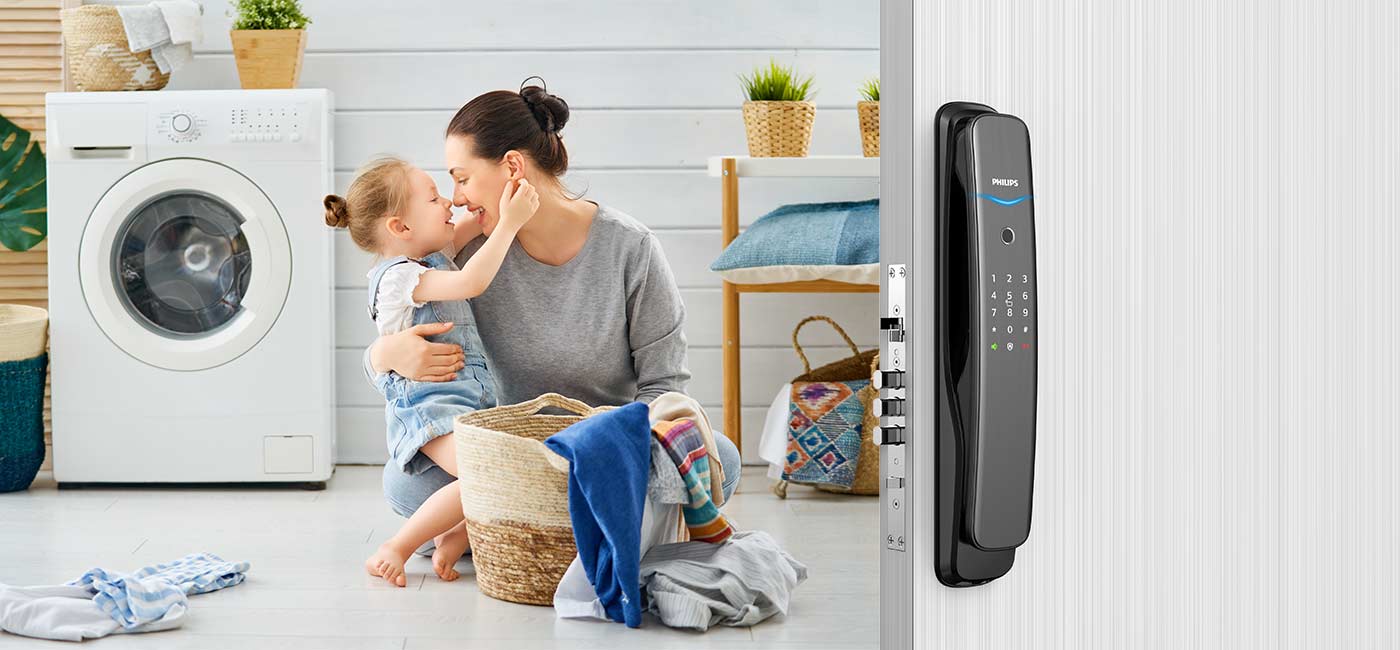 A good assistant for holding a home party
User D: The function of the temporary PIN code of Philips EasyKey is great. No need to worry that the key will be copied. It is convenient for our friends to pay a visit or ask for a cleaning service. It is a fabulous product that I have strongly recommended to my friends recently.
User E: Enable the "manual" mode, then our friends can come in by pushing the door. Then, I just focus on preparing for our party and don't need to stop opening the door again and again.
Although we can't gather usually, Philips EasyKey makes every gathering more relaxing.
Smile curve lights, spread more warmth on daily use
User F: Philips EasyKey is a brand of collecting happiness. The smile curve lights are so inconspicuous that we usually ignore them in our each door lock operations. Actually, the smile light in blue, which always shows up when the door lock is awakened, always gives us the power to greet each day. If we feel exhausted after a busy day, this smile light can make us feel released.
User G: My friends are impressed by my habit that I have to repeatedly check to make sure that the door is closed when I am out.
Before I started using a smart door lock, I always repeatedly check the door lock status. Sometimes, I have to come back to confirm, and then it will completely disturb my following schedule. Since I have a smart door lock, the function of automatically locking up the door has saved a lot of time. In particular, when I close the door, the door lock end will prompt whether I have fully closed it. If not, the red smile curve light will light up. Philips EasyKey, allows me to go out at ease.
The smile curve lights design of Philips EasyKey, gives you more sense of happiness.
Change, more than a little bit.