With the growing innovation of product technology in the smart lock field, network connecting, full-automatic, and visualized smart locks have become increasingly popular. Video lock generates more power consumption. Thus the rechargeable lithium battery becomes its standard configuration to maintain durability.
So here comes the question, could lithium batteries be mixed? What should we notice during use? We will answer them for you.
CATL lithium battery is stable and durable.
The lithium batteries of the Philips video lock came from CATL, the supplier for HUAWEI, Apple, and other brands. Takes the DDL702 series as an example, DDL702 series has a 5000mAh high capacity, good discharge effect, excellent safety performance, and long battery life. More than that, it supports circular charging. People have no more worry about the endurance of the smart lock.
Could the lithium batteries be mixed?
I don't recommend it. The different battery has different material and different discharge capacity. If mixed, it is easy to cause power consumption and damage risk. In addition, different materials will influence the electric quantity calculation, rendering battery error displays. For example, when the smart lock power off but shows there is still power left, it not only affects our usage experience but also leads to the situation that the smart lock cannot work.
What should we notice when charging lithium batteries?
To maximize the lithium battery life, first, we better use the standard battery, second, we should charge in the right way.
1. Do not charge in a too-low or too-high temperature.
2. Do not charge for a long time, and remember to cut the power after charging.
3. Develop good charging habits and charge promptly.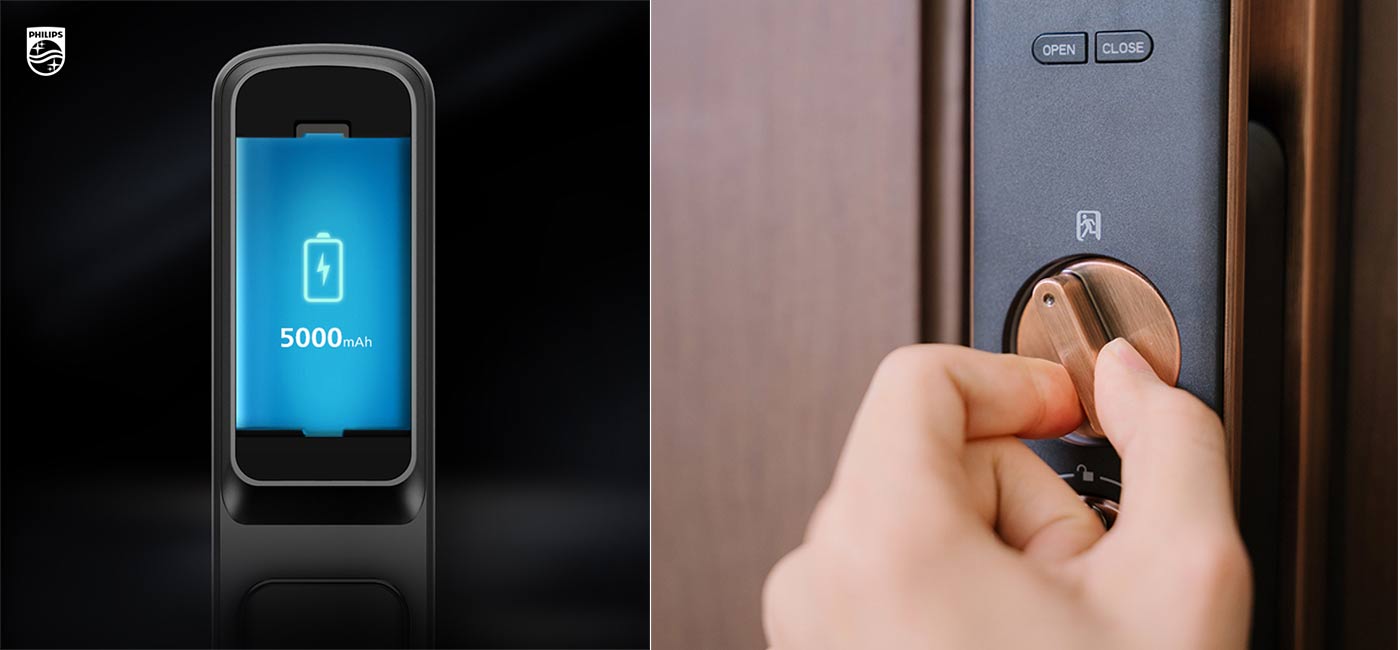 It should be noticed that Philips smart lock equips the low battery alarm function. When the battery voltage is too low, the lock will send the voice prompt" the battery is too low, please replace the battery" to remind you to replace the battery in time, but the smart lock still can be used for some time.
Of course, you don't need to worry even if the lock runs out of power. Philips EasyKey equips the emergency charging port, emergency unlocks rotary knob, and other intimate electrical designs, to make sure we get in and out safely even in electronic failure or power off.
An excellent battery provides the stable and durable endurance of the smart lock and renders us a better user experience. Philips EasyKey, use CATL lithium battery as standard, adopts an intimate electrical design, and renders you a full sense of security from details.